Dear Readers,
I love the easy look of the jersey dress which is a ubiquitous trend this fall. It can be worn solo, glammed up with accessories, paired with tights or leggings and best of all it feels like you're wearing your favorite big T shirt except these dresses are so much cuter, fashion forward (and much more flattering!). Shoe options are endless, from ballet flats, to granny boots to towering heels. The look is comfortable yet can be sophisticated or funky depending on how you dress it up or down. Check out the photos below for ways to wear this silhouette:
Carrie Underwood wearing the Jersey dress for a casual day look. I don't recoomend horizontal stripes for most women (makes you look wider) but the empire cut is a great look for most women.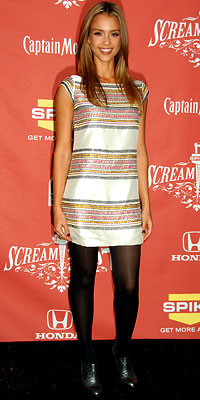 Jessica pairing her shift dress with tights and boots
All black for a dramatic evening look.
A very relaxed/funky look for fall
Copyright: Natalie Jobity Elan Image Management
As always, make sure your Presence is Purposeful! www.ElanImageManagement.com