Ladies, we all have problem areas that we strive to hide and camouflage. Having a tummy is a common problem. No one wants to wear baggy clothes, but sometimes it feels like this is the only option. This is especially true in the plus size department. Let's make a pact today- No More Oversized Shirts! Instead, follow our stylist tips to a sleek figure that will give you your confidence back.
Shapewear can be best your friend. It supports the foundation upon which your clothes drape. You want to be sure to get this right. We don't recommend buying it to fit into a size smaller. Instead use it to help you feel more comfortable in body grazing sweaters, contoured dresses and blouses. Bare Necessities has a great selection of brands carrying lines designed to fit your curves.  I highly recommend the Full control body torsette pictured above from TC Intimates from Bare Necessities for those needing substantive support in the mid section. It really works! Plus I love that you get to pair it with your own bra.
Now that you can shop body skimming tops with confidence, it's time to try layers. A jacket like this style from Nic + Zoe has princess seams giving you a slimming silhouette. The cutaway hemline also adds to the illusion of a slim waistline. We selected this style because you can wear it both in the office on business casual days and on the weekend when you need a confidence boost.
Don't shy away from color. You can do a bold blazer; just layer a dark blouse underneath to continue that camouflage effect. This bright coral boucle jacket from Coldwater Creek also has those princess seams we mentioned above. Only slightly longer, hitting at your mid-hip, this jacket will create a long lean line from jacket to trouser.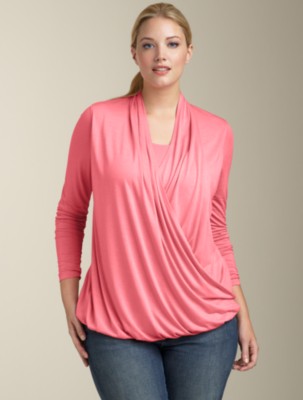 A jacket fools the eye by breaking up your silhouette, making you look thinner. Another way to achieve this is with diagonal lines. These can be found in prints, faux wrapped blouses, and color block designs. This new Drape Wrap Top from Talbots gives you that soft flattering wrap effect. Plus with a built in tank it's easy on-the-go style. New Mom's take note!
Keep these tips in mind when you are shopping for your Spring wardrobe updates. Take the time to try different silhouettes on and actually LOOK at yourself in the mirror. Make sure the item makes you feel good before you take it the register. Feeling good will make you stand taller which also does wonders for creating a slimmer silhouette!
Dare to be Fabulous regardless of your size.
—
Be sure to check out Natalie's bestselling book, Frumpy to Fabulous: Flaunting It. Your Ultimate Guide to Effortless Style. It is available in Paperback, Kindle and Abridged Ebook Format.